Train
World-Class Training Experiences For Clinicians, Office, & Community Staff
Course Marketplace
Curated learning modules, programs, and experiences to coach up your team to become more competent in their role. Powered by industry leaders, access training across a variety of providers to build learning plans that meet your team's specific goals.
Designed For Mobile
Top-rated Training Providers
Purchase OnDemand (Enterprise Programs Available)
Accredited CE, Certificate, Diploma, & Degree Programs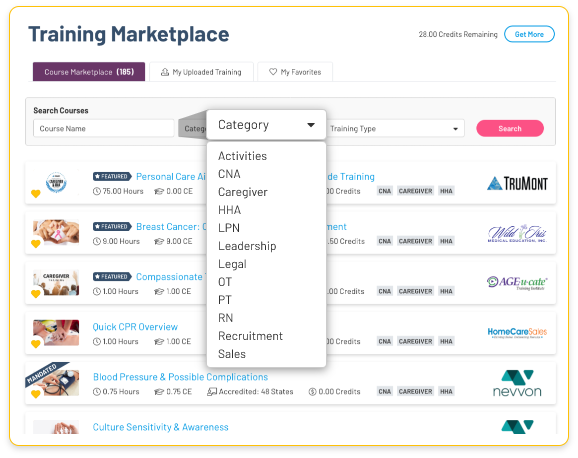 Programs
Frontline Training Center
Caregiver Training
Certified Nursing Assistant
Home Health Aide CEs
Skilled Training Center
Registered Nurse CEs
Licensed Practical Nurse CEs
Occupational Therapy CEs
Physical Therapy CEs
Healthcare Apprenticeships
Registered Nurse
Home Health Aide
Career Diplomas
High School GED
Child Care Professional
Home Health Aide & Senior Care Specialist
Medical Administrative Assistant
Medical Billing & Coding
Medical Transporter
Occupational Therapy Aide
Physical Therapy Aide
Certificates
Child Development Training
Comprehensive English: Reading & Writing Skills
Human Resources Management Essentials
Health Information Management
Medical Terminology
Administrator Training
Healthcare Recruitment Series
Activities Coordinator & Director Series
Marketing & Sales Series
Leadership Series
ONLINE
Access courses 24/7 on your computer, or mobile devices
ACCREDITED
Recognized certificate, diploma, and degree programs
SELF-PACED
Learn on your own time, around your schedule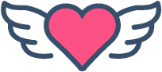 Learning Management Platform
Mobile-first LMS with built-in text and email alerting, virtual classrooms, and the ability to create and upload your own training programs. Easily track and manage compliance while creating powerful learning experiences from a growing library of programs in the course marketplace.
Easy to Scale
We don't believe in charging user fees or in deactivating users. One platform fee and training on-demand that works well for 25 or 25,000 employees.
Easy to Start
Easy to learn, easy to use, and support to implement the program across your managers, team, and employees.
Mobile First
On-the-go learning that is easy to complete in bite-sized chucks or longer sessions.
Course Marketplace
Access training across a variety of providers to build learning experience tailored for each individual.
Virtual Classroom
Expand learning with built-in virtual classrooms.
Inspiring Reminders
Increase completion rates with automatic text and email reminders alongside onsite notifications prompting users to take their next step.
Learning Paths
Drive long-term behavior change or instill key concepts by curating your own learning paths.
Customized Training
Customize training experiences by uploading your own lessons, adding a quiz and certificate.
Integrated Gaming
Auto recognize employees and drive behaviors with built-in gaming.
Actionable Reporting
Audit-ready compliance reports mixed with business insight dashboards.
API Enabled
Quick to integrate into many systems, bringing together your data with the actions you want to drive.
Amazing Support
Easy built-in text support for users and a dedicated Account Manager for employers.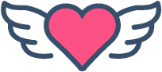 Coming Soon
OnTheFly Learning Zone
A microlearning content hub, built by Chief Clinicals Officers, allowing employees to quickly search a topic from their phone to receive a quick on-the-job refresher. This product is also customizable for enterprises to create their own microlearning lessons.